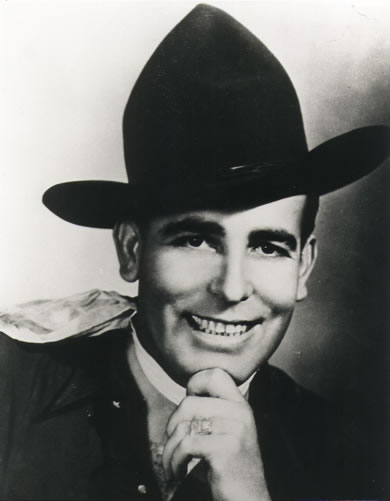 If you look back through the history of Country Music you'll find times when an artist came along that has such an impact on the genre that he/she takes the music to an entirely new level in the eyes, the ears actually, of the listening public. One such time was in 1929 when a young man named
James Robert Wills
brought forth a new type of Country Music called
Western Swing
. This was as big a happening to Country Music as when Elvis later got the world of Rock N Roll all shook up (insert Jordanaires backing vocals...uh huh huh). More on that in a minute.
On March 5, 1905, a baby boy was born in Old Union, Texas (near Groesbeck, in Limestone County) who was destined to play the fiddle and change the face of Country Music. James Robert Wills came into this world a bit of a premonition, the son of a statewide fiddle champion. Each member of the Wills family played an instrument, so holding dances in their four room house was a regular thing for Jim Bob (as young Wills was called) and family. Bob learned traditional music from his family and what were called "Negro songs" from the black people who picked cotton on the Wills cotton farm. Later in life, Wills noted that until he was seven or eight, he hardly ever played with white kids other than his siblings, but was in the cotton fields singing and playing with the black children. At age sixteen, Bob hopped on a train and traveled around from place to place before moving back home and attending barber school. Bob continued to play the fiddle and travel extensively in Texas, New Mexico and Oklahoma, meeting future Texas Playboys band members like Tommy Duncan along the way. Eventually getting a daily radio gig on 50,000 watt KVOO in Tulsa, Bob Wills and the Texas Playboys were heard by a large audience every day and soon major success
would come their way
.( detailed bio of Bob Wills). Churning out hit after hit, the American public went crazy over Bob Wills and the Texas Playboys. Bob Also starred in movies, did rodeo shows, almost anything to to share Western Swing with the world. There are so many songs to list, I am gonna make it easy on you and me by posting
this link to YouTube
with many of Wills' classic songs.
Bob Wills musical influence extended to some of the greatest country artists of all time - Merle Haggard and Willie Nelson among them. Haggard did a tribute album to Wills in 1970 called
"A Tribute to the Best Damn Fiddle Player in the World"
with Wills and The Texas Playboys as guests. If you like Western Swing,
find this album!
It's a work of art. Willie did an album of Bob Wills songs with Ray Price and it, too, is a
great piece of music
(sorry, I can't recall the name of it). More Bob Wills information and music can be found on the
Official Bob Wills Website
.
UPDATE: My Blog Buddy no2liberals provides this this link to his site with some great info on boogie woogie/swing music!