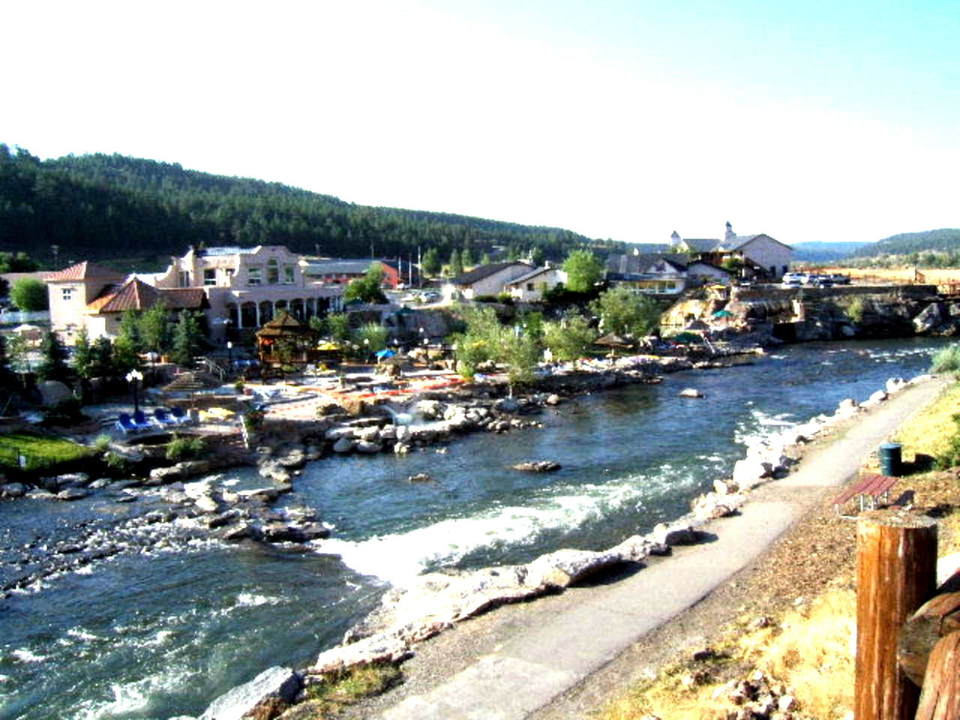 Pagosa Springs
I haven't often been to the Western Slope of the Continental Divide, except to go fishin' a few times, so my personal knowledge of that part of Colorado is limited. I do know, however, know a cool place when I see one.
Pagosa Springs
is such a place. The Good Lord chose to put Pagosa Springs at 7000 feet above sea level on the Western Slope surrounded by what is now the San Juan National Forest and land owned by the Southern Ute Indians. He could have done worse.
This site
has several links to webcams viewing different parts of Pagosa Springs. It appears that the cameras show only still pictures, so you'll need to refresh your browser window every once in a while. The "Springs" part of the town's name comes from the Ute words "pah gosah" meaning "healing waters". "Healing waters" refers to the mineral-rich hot springs in the area. It is to these hot springs that people from all over the world come to cure various and sundry ailments. And it is these springs which provide much economic benefit to Pagosa Springs. Nearby
Mesa Verde National Park
offers visitors an incredible look at the lives, including magnificent cliff dwellings, of the Anasazi of hundreds of years ago. Mesa Verde isn't the only National Park in the neighborhood,
Great Sand Dunes National Park and Preserve
is also a short distance from Pagosa Springs.
Wolf Creek Ski Area
, with over 1600 acres worth of snow skiing, is yet another destination that makes Pagosa Springs a favorite of tourists (and an economic benefit to the community). After learning all this new stuff, I do believe that a trip to Colorado should include a drive over The Divide to a cool place that is the home of the "Healing Waters" - Pagosa Springs.