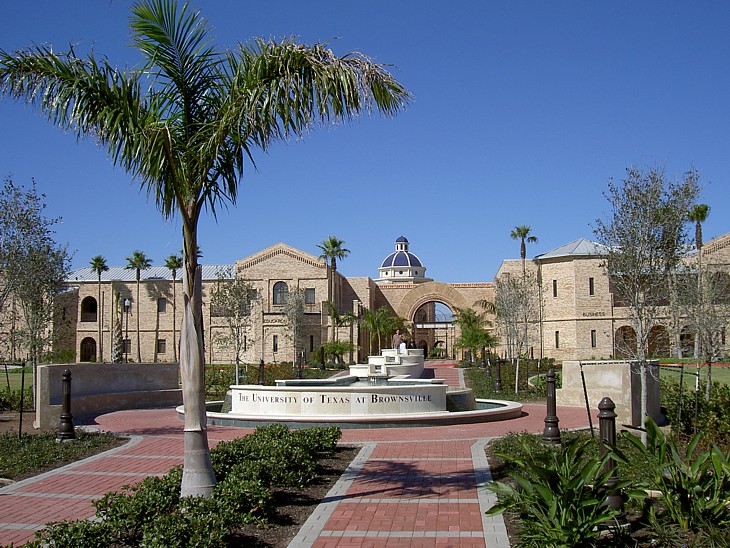 University of Texas at Brownsville
I have always been a sucker for things Mexican - the food, language, tequila, traditions, sense of family, tequila. You get the picture - all that other stuff and tequila. Seriously, I love the culture of our Mexican neighbors. I was thinking, if I want to get a taste of Mexico and still be in the USA, where would be a good place to go? Easy answer.
Brownsville
. In Brownsville, I'd still be in Texas and get the flavor of Mexico as well. Hell, Matamoros is just across the Rio Grande. The southernmost city in Texas has a population of about 140,000 and a semi-tropical climate that attracts many snowbirds, or Winter Texans or as Texans call them, Yankees. :) The climate is just one item on the "plus" list for Brownsville. Other pluses include a landscape laden with palm trees, bougainvilleas and comforting Gulf breezes, exotic birds and a zoo that features over 1500 species of animals. Brownsville's recorded history goes back to the 1600's but was settle many years later. According to The Handbook of Texas Online, "In 1781 Spanish authorities granted fifty-nine leagues of land on the northern bank of the river, including all of the site of Brownsville, to José Salvador de la Garza, who established a ranch about sixteen miles northwest of the site. During the early nineteenth century a small number of squatters, most of them herders and farmers from Matamoros, built huts in the area. A small settlement had formed by 1836, when Texas declared her independence from Mexico, but the region was still only sparsely settled when United States troops under Gen.
Zachary Taylor
arrived in early 1846." THOT has a more detailed history of Brownsville
here
. Today, as in centuries past, is a major shipping port that brings in goods from all over the world. I guess the most famous thing Brownsville is known for is Spring Break. Enough said. It seems that I have discovered Paradise at the southern tip of Texas, and it called Brownsville.