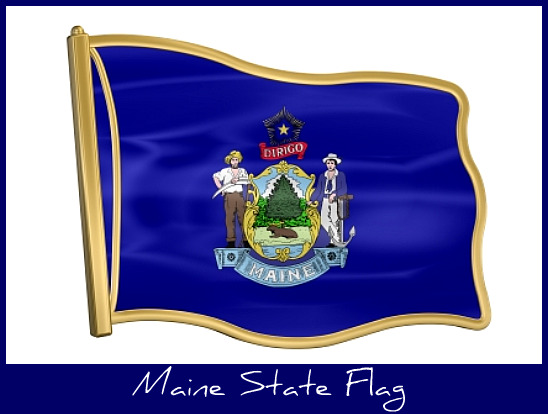 The history of Maine is a very interesting topic to me. I thought that it might be of some interest to you as well, so I have decided to put together a series of posts that will highlight a period of the colorful history of the state in which I live. I won't go into great detail, instead I'll present the information to you in a number of short articles. So, let's get to it!
Columbus "discovered" America in 1492, or did he? It is believed that Leif Ericson and a crew of thirty or so Vikings explored the coast of Maine a full
five hundred years before
Columbus landed in the West Indies. Ericson and his men may have even tried to colonize Maine at that time. A mere six years after Columbus' exploration of the New World, it is nthought that an Italian sailor, John Cabot, in service to King Henry VII of England, sailed into North American waters and possibly even the Maine coast, but concrete evidence of Cabot's possible adventure in Maine is minimal, at best. In the late 16th Century, a number of ships from Europe skirted along the coast of Maine, even putting ashore for repairs and processing of the fish catch. Maine was also the site of one of the earliest permanent European settlements in America. From maine.gov comes this: "
The first settlement was established by the Plymouth Company at Popham in 1607, the same year of the settlement at Jamestown, Virginia. Because the Popham colony didn't survive the harsh Maine winters, Jamestown enjoys the distinction of being regarded as America's first permanent settlement."
There were many English settlements along the coast in the 1620's, but the lovely winters of the area and Indian attacks wiped many of them out over the years. Entering the 18th Century, there were only about a half dozen settlements that survived the elements and the Indians. Maine was sparsely populated as Massachusetts bought up most of the land in Maine in the 1700's. Things stayed that way until Maine broke off from Massachusetts and became a state in 1820.
I hope you enjoyed our little foray into yesteryear and we'll delve into another aspect of the history of Maine tomorrow on Maine Minutiae!