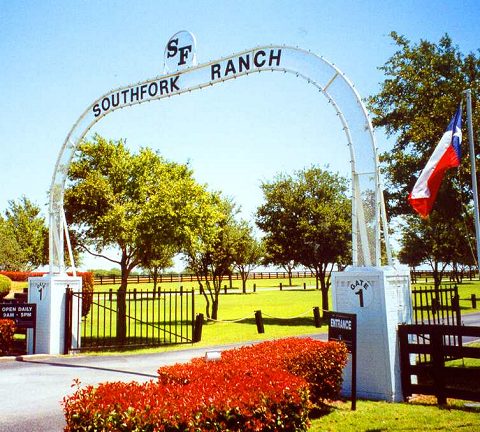 The
most famous ranch
in Texas is known to tens of millions of people around the world. However, its fame doesn't come from a history of cowboys and cattle drives. It is recognized as the Home of J.R. Ewing and the TV show "
Dallas".
And it's located in the shadows of Downtown Dallas - The Southfork. The kind of ranch I'm writing about is a real-life cowboy-employin', cattle-raisin' head 'em up, move 'em out ranch - such as the World Famous
King Ranch
. Started in 1853 by a jeweler's apprentice from New York, the King Ranch today encompasses 825,000 acres and parts of six counties. Eight hundred. Twenty-five. Thousand. Acres. That's 50,000 more acres than the
state
of Rhode Island. The King Ranch is not alone in its jumbo-size status amongst Texas Ranches. The
Briscoe Ranch
, near Uvalde, owned by the late (I just now found out he died a couple of weeks ago) former Governor of Texas, Dolph Briscoe, measures a measly 640,000 acres and the
Waggoner Ranch
near Vernon rounds out the Top Three Biggest Texas Ranches at 524,000 acres. These three "small states" are but a trio of the many
enormous ranches
in The Lone Star State. Texas' place in the
history of ranching
is a long and proud one. A history that even ol' J.R. Ewing would be proud of.